At Mallards, many of the pieces of jewellery we create are inspired by particular architectural details or items – the Tudor Roses in Westminster Abbey, for example, or the portcullis symbol of the House of Commons. However, we also work on original designs, and we've recently created a sterling silver "twist cross" pendant.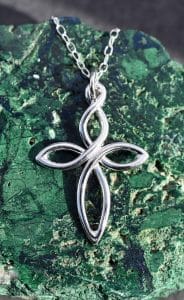 Although we designed and made it for Westminster Abbey's gift shop, the silver twist cross pendant is based on a traditional style of cross rather than being taken from an object specific to that church.
It's made from a single, wire-shaped piece of sterling silver, which is carefully twisted to form a contemporary version of a classic cross pendant. However, although the graceful style of the twist cross seems modern in design, it's actually a traditional Christian symbol, with significant meaning for its wearer.
The endlessly looping design of the twist cross represents the infinite love of God and everlasting faith; and this style is sometimes called an "eternal cross".
A symbol of suffering leading to salvation, the cross is recognised by most Christian faiths. It's been used by Christ's followers since the very beginnings of Christianity; however such an overt symbol of belief in a hostile climate meant that those who displayed it risked persecution. Believers in those early days preferred to use the "ichthys" symbol as a secret sign. When the Roman Emperor Constantine became a Christian in the fourth century, Christians no longer had to hide their faith and the symbol of the cross became widely used. These days, many Christians choose to wear a cross pendant or badge as a sign of their faith. It's also worn simply as a piece of jewellery.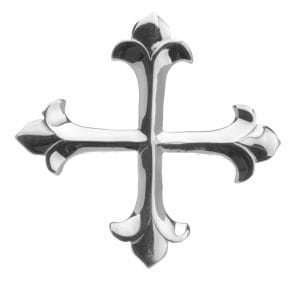 There are many different types of cross pendant. Broadly, the main variants are the Latin cross, which has a longer lower portion, and the Greek cross, which has four equal limbs. An example of a Greek cross is the "cross patonce" of Westminster Abbey, which we've recently created for the Abbey's gift shop. A further variant is the crucifix, which features a figure of Christ on the cross.
Another popular design of cross worn as jewellery is a Celtic cross, which is a ringed Latin cross first seen in early medieval Britain and Ireland. We've also worked with Westminster Abbey to create a Celtic cross pendant, based on Lady Margaret Beaufort's altar cross. Like the new twist cross, this pendant has a contemporary feel, making it an attractively modern piece of jewellery.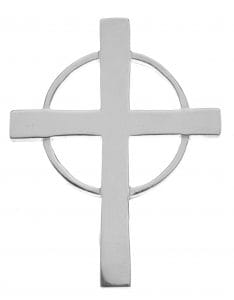 The sterling silver twist cross is available at Westminster Abbey's gift shop, and is sold along with a matching chain to form a complete necklace. It would be the perfect gift for a baptism or confirmation, or simply a lovely souvenir of a visit to the beautiful Abbey.
If you would like a piece of bespoke jewellery creating for your heritage attraction or business, please get in touch with us at Mallards.