The Tudor Rose, one of Britain's best-known heraldic symbols, is one of our favourite historic designs to work with. Delicate, yet a distinctive and strong shape, it lends itself really well to sterling silver jewellery.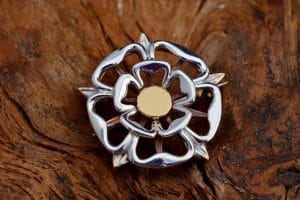 The Tudor Rose is named for the royal family that created it, the rulers of England and Wales from the late fifteenth until the early seventeenth century. The most typical way of depicting the Tudor Rose is as a "double rose", with a smaller white rose above a red rose, each with five petals, and a golden centre. Five green leaves (or barbs) around the red petals complete the flower. How did it get its detailed design?
The creation of the Tudor Rose emblem is a story of power and politics in late Medieval England and Wales. Henry Tudor won the Battle of Bosworth in 1485, defeating the reigning king, Richard III, which marked the end of the Plantagenets (the House of York) and the dawn of the Tudors (the House of Lancaster). To legitimise his claim to the throne, the new king, Henry VII, married Richard III's niece Elizabeth of York.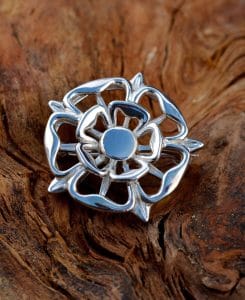 The House of York's emblem was a white rose. Henry VII's family, the House of Lancaster, occasionally used a red rose as their badge. When Henry and Elizabeth married in 1486, these two roses were joined together to form the famous two-coloured Tudor Rose. A new alliance and a new emblem, both designed to unify a fractured kingdom.
The Tudor Rose emblem is found across the UK, most notably in Westminster Abbey, where Henry VII founded the Lady Chapel. Like the stonemasons who carved intricate roses into the Abbey's architecture, we also faced the challenge of creating an identifiable Tudor Rose without using its characteristic colours.
We did this by making sure that the shape was instantly recognisable as the Tudor Rose. By creating delicate outlines rather than a solid shape, we were able to recreate a clear outline of the two flowers and barbs. This approach also gave us a really elegant effect, traditional and modern at once.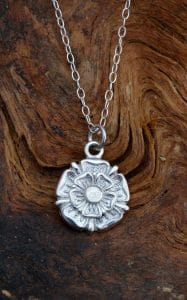 We created two different brooch designs, one entirely made from sterling silver, the second silver but with a contrasting bronze centre. The third item, the pendant, is made from sterling silver with a matching silver chain.
All three items are available to buy online from Bonds the Jewellers. However, if you manage an attraction or heritage gift shop, and think that these pieces would add to your jewellery range, please contact us at Mallards. We're able to supply them wholesale, and can also arrange presentation gift boxes for you. Alternatively, if you'd like a bespoke piece of jewellery for your shop, please talk to us, and we can work on a design together.