Mallards' latest commission came from an unexpected source: The Royal Marines. Usually associated with rapid global deployment rather than jewellery, the Royal Navy's amphibious arm has a gift shop that raises funds for Royal Marines' charities, and they asked us to design them a new silver pendant.
We wanted to create an elegant yet understated silver pendant for the ladies' accessories collection. The solid silver circle suggests strength and constancy, and is a lovely, simple design that can be worn as an everyday piece. For the engravings, we looked back into the history of this world-renowned commando force.
Inside, it reads "Royal Marines 1664".  The founding date of the Royal Marines is often given as 1755; however, their roots go back much further, to 1664 when the "Duke of York and Albany's Maritime Regiment of Foot" was formed, combining fighting skills on land and at sea. This formed part of the "English Army" of the Restoration, the country's first real peacetime standing army. We wanted to acknowledge the Corps' signal role in British history, so naturally used this earlier date.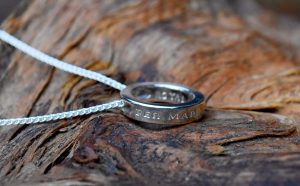 On the external circumference of the ring, we engraved the Royal Marines' Latin motto, Per Mare Per Terram. This translates into English as "By Sea By Land". The motto was first used in 1775, and refers of course to the Corps' role as the Royal Navy's amphibious troops.
The flat, front surface of the pendant is in simple, polished silver. The sterling silver spiga chain attaches to the pendant through two small holes, rather than via the more conventional ring. This ensures that the pendant hangs down flat, while still making it easy to swap the chain for a different length should the wearer wish this.
We're really pleased with the result: a classic and elegant piece of bespoke silver jewellery, that pays discreet homage to this most special of military forces. It's available online from the ladies' accessories section of Royal Marines' Shop.
If you work for an organisation that has a fundraising section, please get in touch with us at Mallards. We will work with you to design an original piece of jewellery that appeals to your customers and supports your cause. It's surprisingly inexpensive to commission your own jewellery from Mallards, and we won't charge you for the silver sample we produce.