Mallards has created two sterling silver crucifix pendants for Westminster Abbey's Gift Shop.
The pendants are inspired by an altar cross in the Abbey. The beautiful silver crucifix stands on the altar in the Shrine of St Edward the Confessor. It was presented in 1979, designed by silversmith Keith Redfern.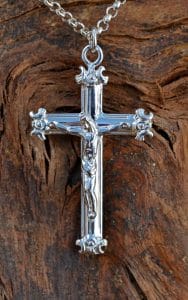 The word "crucifix" comes from the Latin cruca fixus, meaning fixed to a cross. A typical crucifix depicts a three-dimensional figure of Christ known as the "corpus", against a Latin cross (the type of cross where the descending arm is longer than the crosspiece). As a reminder of his sacrifice for humankind, Christ is often shown with an expression of suffering. The crucifix is often used as an altar or processional cross, like this one, as well as being worn as a piece of Christian jewellery.
The Westminster Abbey crucifix stands on an altar, a tradition that goes back to the 6th century. Crosses were often processed to the altar at the start of the service, rather than being a fixture. Prior to the 14th century, altar crosses were normally plain (crucifixes cost more). The crucifix is there to remind the congregation that the Eucharist or Communion is the body of Christ; and sometimes the crucifix is actually suspended above the altar, as an even clearer and more visible call to contemplation.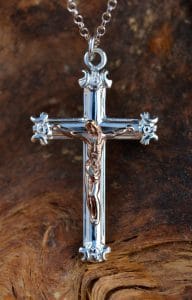 Many Christians choose to wear a cross or crucifix on a chain around their neck as a symbol of their faith. A cross-shaped pendant is often a popular christening, baptism or confirmation gift. However, over the last few decades (step forward, Madonna) the crucifix has also become a fashion accessory.
Mallards have made two versions of the St Edward's altar crucifix for the Abbey's gift shop. There is a plain sterling silver crucifix and a two-tone one, where the cross is made from silver and the corpus is bronze. The actual crucifix in the Abbey is made from silver and bronze; however by offering a silver edition, there's another choice for those who prefer an understated look. It measures a delicate 2.3cm x 3.8cm, and the matching sterling silver chain is 18". Both crucifixes are available from the gift shop at the Abbey.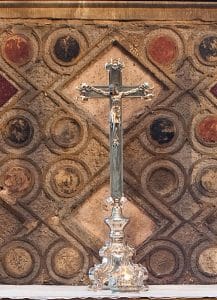 If you have an idea for a bespoke piece of jewellery to see in your gift shop, please get in touch with us at Mallards. We specialise in customised heritage gifts, including Christian jewellery like these lovely crucifixes; and we also work with commercial organisations and individual clients.