One of our favourite designs for the Houses of Parliament shop is this delicate little Tudor Rose pendant in sterling silver. The crowned Tudor Rose emblem is one with real historical significance – as well as being part of England's popular culture.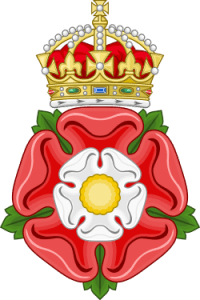 The Tudor Rose is a "double rose", with a white rose above a red rose. Each bloom has five petals, and there are five green leaves ("barbs") around the outside. The flower has a golden centre. It is sometimes depicted with a crown above it, emphasising its status as a royal emblem.
The Tudor Rose was created when new Lancastrian monarch Henry Tudor (Henry VII) married Elizabeth of York in 1486. The two rival houses were united, and their rose badges were joined to form the famous double rose. The badge became widely used, and the Tudor Rose became the floral heraldic emblem for England.
Henry himself made great use of the new badge. He had just defeated the mighty Plantagenet dynasty, which had ruled for over three centuries, and needed to establish his reign as legitimate. By emphasising his pedigree and links to the old order, he was demonstrating that he was no mere usurper. His crowned rose emblem appears in many buildings of the period, including Westminster Abbey, where Henry established the Lady Chapel.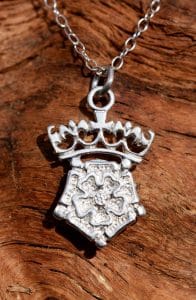 However, the crowned Tudor Rose wasn't just used for royal or formal occasions; and the "Rose and Crown" is the 14th most popular pub name in England! In 1393, public houses were ordered to have a sign outside. As most people couldn't read, the sign would almost always have a picture rather than a name. Pubs began to show their loyalty to their monarch or their local lord by adopting their heraldic symbols for their signs and names. (The most common pub name in England, the Red Lion, is from the emblem of John of Gaunt, Henry and Elizabeth's common ancestor.) When your emblem starts being used in pubs, you know that your reign has been accepted!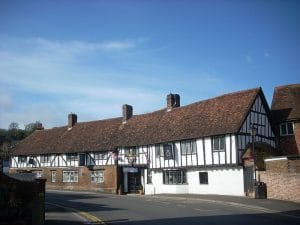 Our badge is based on the crowned roses found in the House of Commons. Like the Tudor stone masons who first carved the flowers for Henry VII's buildings, our challenge was to make the emblem as clear as possible without using its distinctive colours. We did this by making sure that the shape of the rose and crown were strong, and then focusing on getting the delicate floral details right. We're really pleased with the result, which is an elegant and original silver pendant. The crowned rose pendant is available to buy at the Houses of Parliament shop.
If you work in an historic place with stories to tell, let us know. At Mallards we specialise in taking architectural details and symbols, and making them into beautiful pieces of bespoke jewellery. We can even recreate your pub sign for you!