At Mallards, we are asked to recreate all sorts of interesting objects and items of jewellery. This time, we were approached by a local historian with a very interesting commission. He had found a commemorative badge of Winston Churchill in a park in Plymouth, and wanted a copy made in sterling silver.
A member of Hidden Heritage Plymouth, our client discovered this fascinating find when out with his metal detector in the city's Central Park. Churchill visited Plymouth in 1941, and it's likely that the badge was produced to commemorate the visit from the great leader. Churchill made many morale-boosting visits during the war, and Plymouth was certainly in need of this public show of support.
As the home of naval bases and docks, Plymouth suffered hugely from bomb damage. In March and April 1941, the city and Devonport Docks were targeted relentlessly. Over 900 people were killed, and many of the city centre's streets and homes were destroyed or badly damaged. Churchill came to Plymouth on 2 May, and was welcomed enthusiastically by its stoic residents. Pathe News documented his visit, and you can see a clip on Pathe's website.
It's also likely that some people chose to celebrate Churchill's visit by buying a souvenir badge. Commemorative memorabilia has been popular for centuries – Trafalgar and Waterloo were popular subjects. A lapel badge of Churchill is a way of marking both the visit and proudly displaying patriotism during the war.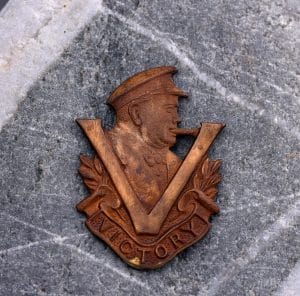 This particular example has a lot of lovely detailing. Churchill's head is shown in profile, behind the defiant V for victory. The word "Victory" is emblazoned across the base, like a motto on a coat of arms, flanked by leaves in the style of Roman emperors. It's an informal portrait of the leader himself, who's smoking his trademark cigar. The wearer of this badge was proud to be British, proud of his or her Prime Minister, and stoic in the face of bombardment.
The original badge has a dull finish after its years underground, but the design is still as clear as the day it was made. It's taken to local schools who are studying World War II and Plymouth's history.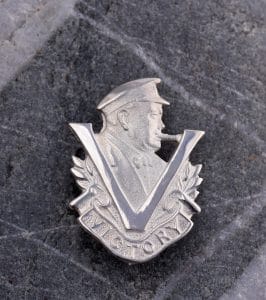 The member of the Hidden Heritage society that found the badge brought it to us, and asked if we could make him a copy in sterling silver. Because the shape is still remarkably intact, we could make a mould from it, and recreate the design with true accuracy. It makes a handsome lapel badge, and our client was really pleased with his shiny new copy.
If you have an old, tarnished or broken item that you need recreating in sterling silver, please get in touch with us at Mallards. Or, if you work in a museum or heritage site, and would like to reproduce an item to sell in your gift shop, please contact us to discuss it.
If you find an object that you think may have historical significance, please make sure you report it to your local Finds Liaison Officer.