At Mallards we often undertake one-off commissions for customers. A customer approached us looking for a mortar board charm. His daughter had just graduated, and he wanted to give her a special gift to commemorate her achievement. We searched for a mortar board charm, and couldn't find one we liked – so we created this one especially for her.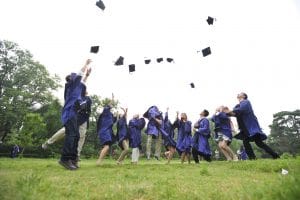 The classic mortar board has become the symbol of academic achievement, and it is often found on exam congratulations cards and gifts. Mortar boards are also used to represent teaching – and in some British schools, teachers continued to wear the cap and gown to work until well into the twentieth century.
Graduation is not simply for university students these days. Adopting the American custom, British pupils now graduate from school, primary school, and even nursery! However, the British custom of throwing your mortar board in the air in celebration has recently been stopped, as it was thought to be a bit dangerous…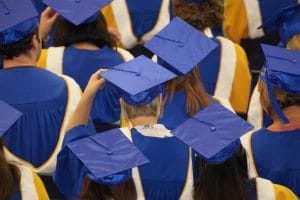 The mortar board gets its name from its resemblance to a bricklayer's hod, which is used to hold mortar. It's also known as a "graduate cap", "Oxford cap" or "academic cap". The mortar-shaped square board is fixed onto a skull cap, with a tassel attached to its centre. Together with a gown and a hood, the mortar board forms the traditional graduation ceremony costume.
It's an unusual-looking hat, and its characteristic flat design is thought to come from the medieval biretta worn by the clergy, although that was typically red (biretta comes from berretto, meaning "red"). Today's mortar boards are usually black, blue, or grey, although this depends upon the individual institute. Sometimes, the tassel is a different colour, depending upon which department the student is graduating from (much the same as the hood can change colour depending on the faculty).
The distinctive shape of the classic mortar board makes it an ideal subject for a pendant or charm. Many people choose to commemorate significant life events by adding a charm to their charm bracelet; and the more recognisable the object is, the better the effect.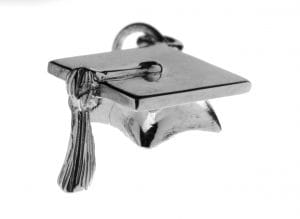 For this one-off commission, we crafted the miniature mortar board from sterling silver. The shape is naturally simple; however we made sure that there was detail in the tassel, which gives it a realistic-looking texture. It would look good worn on a chain as a pendant, or added to a charm bracelet. The link is on one of the peaks of the cap, so it hangs very neatly.
The customer was really pleased with the result, as was the graduate, who was delighted to have a bespoke piece of jewellery. We have now created a mortar board charm for retail, available from Bonds the Jewellers.
If you have something to commemorate, please get in touch with us at Mallards. It's lovely to have a one-off commission to celebrate an academic or sporting achievement, a wedding, new baby, or new job. Simply contact us and discuss what you'd like, and we can create a bespoke piece of jewellery for you. We can make charms and pendants, cufflinks, badges, brooches, and earrings.