A bespoke charm is an item we're often asked to create for our heritage clients. Delicate and individual, an original charm appeals to a variety of customers, and make lovely presents.
We're always excited by a new commission from Westminster Abbey's gift shop, and they recently asked us to design and produce this charming little crown. The coronations of English (and later British) monarchs have been held at Westminster Abbey since 1066 – so what item could have more significance for the Abbey than a crown?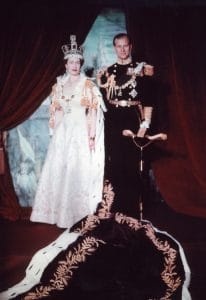 William the Conqueror was crowned King of England following his famous victory at Hastings in 1066. He chose Westminster Abbey because the Saxon king Edward the Confessor was buried there – and as William was claiming to be his lawful successor, he wanted to establish his authority and claim by being crowned close to the grave. In turn, his successors were crowned in the same place, establishing Westminster Abbey as the coronation church of the English monarchy. Since then, Westminster Abbey has seen 38 coronations.
The bespoke charm we designed for Westminster Abbey is a stylised version of St Edward's Crown, part of the coronation regalia and the "official" coronation crown. Named for Edward the Confessor, the present crown was created for Charles II in 1661. Created by Sir Robert Vyner, the spectacular crown weighs 2.23kg, and is 30cm (a foot!) tall. It's not surprising that some monarchs have chosen to wear a lighter crown…!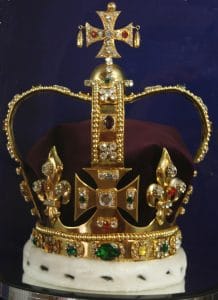 St Edward's Crown has a distinctive design featuring four fleur de lis and four crosses pattée (a flared-shape cross), with two dipped arches topped by an orb and another cross pattée. The royal purple velvet cap has an ermine trim, a fur formerly reserved for royalty and the highest ranking nobles. Made from gold, the crown is set with 444 semi-precious stones, including 345 aquamarines, 37 white topazes, 27 tourmalines, 12 rubies, 7 amethysts, 6 sapphires, 2 jargoons, 1 garnet, 1 spinel, and 1 carbuncle.
Our crown charm delicately hints at this grandeur! Made in the UK from sterling silver, we've captured some of the crown's beautiful detail, while
mainly concentrating on reproducing its distinctive, elegant shape. It's small, at just 2cm high, and would look wonderful worn as a pendant on a necklace. It's for sale at Westminster Abbey's shop, and we supply it in a gift box with a small story card about the charm's history.
This bespoke charm is one of several designs we've made exclusively for Westminster Abbey. If you have a similar item that you think would make a great memento for your customers, we'd love to hear from you. Please contact us at Mallards to discuss your bespoke heritage souvenirs.