Creating a small charm that is instantly recognisable as a famous historical landmark is not an easy task – especially when the architecture is as detailed as that of Westminster Abbey! That was the challenge that Mallards faced when we embarked upon making a sterling silver pendant of the celebrated English church.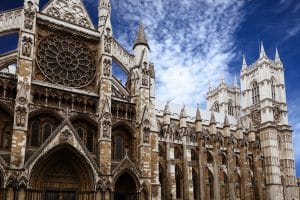 We have worked closely with the Abbey's gift shop for a few years now, taking the church's architectural details (such as Tudor Roses, portcullis symbols, and fleur de lis emblems) and fashioning them into beautiful bespoke jewellery. Making a sterling silver charm that depicted the whole of Westminster Abbey was a different level of task – how can you capture the imposing architecture of a majestic medieval building in one tiny pendant?
The key with successful bespoke jewellery design is to create the essential outline. The cruciform shape of a Gothic cathedral is easily recognisable, and makes an attractive design for a pendant or charm. Next, we needed to decide upon which architectural features are the most significant in recreating Westminster Abbey's appearance. We applied certain selected details to the design; the suggestion of the church's windows, buttresses and niches.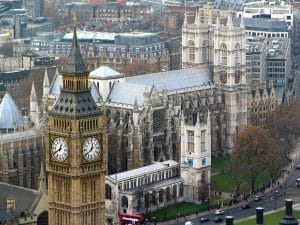 As we always are when we work with historic structures, we were captivated by the building's history, and by how successive generations combined to create the finished church. The iconic architecture of Westminster Abbey is the result of centuries of vision and sheer hard work.
There has been a church on this site since the seventh century; and the present Gothic-style Abbey was begun in 1245 by Henry III. Work continued on Westminster Abbey for almost three centuries, culminating in Henry VII's beautiful Lady Chapel in 1517. Incredibly, Westminster Abbey stood for over two hundred years with an incomplete west front, and those distinctive western towers weren't completed until 1745 by Nicholas Hawksmoor. All those years of different architects making individual contributions have created a seamless whole, this elegant and extraordinary building.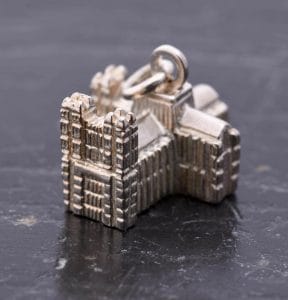 We wanted to design and make a pendant that paid homage to the wonderful architecture and history of the Abbey, and appealed to its many visitors. Our sketches of the simplified outline of Westminster Abbey were sent to our workshop in Birmingham's famous Jewellery Quarter, where our designs were fashioned into perfect little sterling silver pendants. Every stage of the process happens in the UK, which feels so appropriate for this most British of buildings.
This delicate charm is one of several items of bespoke jewellery we've created for Westminster Abbey's gift shop. If you would like to create a unique memento for your customers, we'd love to hear from you. Please get in touch with us at Mallards to discuss your bespoke heritage souvenirs.