As well as creating bespoke souvenirs for heritage and commercial clients, we can also undertake special one-off jewellery commissions for private customers.  We were asked by a retired SAS officer to recreate the corps' famous badge as a sterling silver brooch, and we were delighted to craft this one-off item for him.
The Special Air Service, commonly known as the SAS, is a British Army corps, originally founded as a covert regiment during World War II. Founded by British officer David Stirling, who had a vision of a highly-trained force operating behind enemy lines, the SAS's first mission was as a desert raiding force against Rommel's North African campaign. Today, the SAS's roles include reconnaissance, counter-terrorism, and direct action.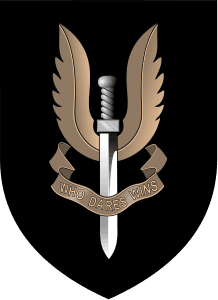 The SAS cap badge depicts King Arthur's sword Excalibur, associated in legend with British sovereignty. The sword on the badge isn't winged as is sometimes thought, but is actually surrounded by flames. The famous motto Who Dares Wins, coined by founder David Stirling, is proudly emblazoned on a banner in front of the blade.
On the actual cap badge, the sword is silver coloured, and the flames, naturally, are a rich gold colour. Our customer asked for the brooch to be made from sterling silver, which we felt would work as well as a two-coloured version, and would give the brooch a clean and contemporary finish.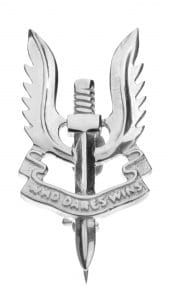 The SAS emblem has a strong, elegant shape that lends itself well to jewellery design. Excalibur is pointing downwards, and with the symmetrical flames rising up towards the top of the blade, a shield-like shape is created.
At Mallards, we wanted to capture both this graceful shape and the emblem's detail. Making sure that the motto was clear was a priority, as the famous three words really capture the essence of the corps. We also made sure that the detailing on the hilt and the flames was as accurate as possible.
We are always happy to discuss one-off jewellery commissions. It could be that you would like your regimental badge or family coat of arms recreated as a brooch, or other piece of jewellery. It could be that there is simply an item that has specific meaning for you – it could be anything, from a flower to a boat to a favourite pet!
Talk to us at Mallards, and we can design and make an original piece of bespoke jewellery for you.