We've created several ranges of bespoke jewellery for Westminster Abbey's shop. One of our favourite designs is the fleur-de-lis emblem, which is a recurring motif in Westminster Abbey's Lady Chapel. How did a symbol of the French monarchy become associated with such a British institution?
Copyright by the Dean and Chapter of Westminster

The fleur-de-lis (or lys) means "lily flower" and was traditionally associated with the French monarchs. It may stem (apologies!) from the 5th century King Clovis, who united all the Frankish tribes and became the first French ruler. He also converted to Christianity, and the story goes that he was anointed with a fleur-de-lis ampulla (bottle) which in some versions descended from heaven. Its three petals were said to represent the Trinity, which French monarchs claimed demonstrated divine favour for their reigns.
Edward III adopted the fleur-de-lis as part of the English royal arms in 1340. Edward believed he had a claim to the French throne via his mother, the French princess Isabella. Adopting the arms of another country in order to claim a right to its throne is called "Arms of Pretension", and seems very audacious behaviour to us these days. However, the fleur-de-lis stayed on the royal blazon (until 1801!), and was used by Henry VII when he came to the throne in 1485.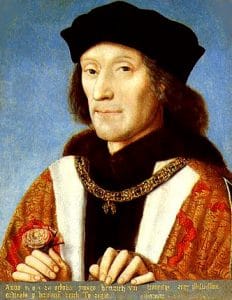 Henry knew the importance of heraldry. Seen by some as a usurper when he won the crown from Richard III at the Battle of Bosworth, he used imagery that linked him to his Plantagenet ancestors (he and Richard had a common ancestor in Edward III) such as the Beaufort Portcullis. His coat of arms is pretty much identical to the one Richard had used, employing continuity to support his claim.
When Henry VII commissioned the Lady Chapel in Westminster Abbey in 1503, the fleur-de-lis became one of the recurring motifs in the architectural detail. Sadly Henry VII didn't live to see his chapel consecrated, although he, his wife and his mother were all later interred there. The fleur-de-lis, the Tudor Rose and the Beaufort Portcullis combine to create intricate details that emphasise and legitimise the Tudor claim to the throne.
The shop at Westminster Abbey asked Mallards to create a range of fleur-de-lis jewellery. It's a wonderful emblem to work with, both elegant and intricate. We were able to design several different styles of jewellery around the fleur-de-lis, coming up with a collection which appeals to a wide audience. The four items are exclusive to Westminster Abbey's shop, and were designed, made, and hand-finished entirely in Britain.
The fleur-de-lis project is a good example of how you can get different designs and styles from a single item. We came up with the following exclusive range for Westminster Abbey's shop: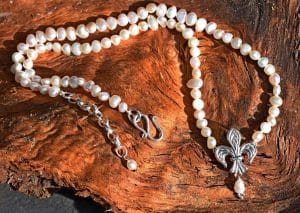 Necklace
This delicate necklace features a detailed fleur-de-lis pendant, made from sterling silver, on a 16" necklace of freshwater pearls. Pearls were extremely popular among wealthy Tudor ladies, so they make the perfect accompaniment to the fleur-de-lis design.
---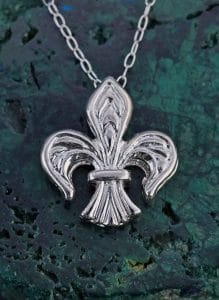 Pendant
Mallards also designed a more understated but equally pretty fleur-de-lis pendant. Again, it's made from sterling silver, and has a detailed 3D design. The pendant comes with an 18" sterling silver chain.
---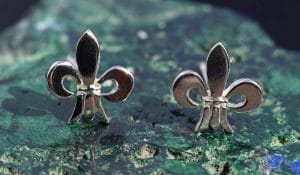 Earrings
We went for a more contemporary approach with these attractive stud earrings. The earrings are hand finished in sterling silver, and measure a dainty 9mm x 8mm.
---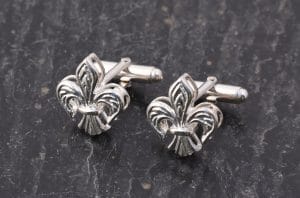 Cufflinks
These cufflinks are made with a 3D sterling silver fleur-de-lis attached to a torpedo bar fastening.
---
Producing a range of bespoke jewellery has the advantage of appealing to a wider audience. You have the advantage of being able to upsell or create multibuy offers – while enjoying the economies of scale that you get because we are working with one main design.
If you have an emblem similar to the fleur-de-lis that you think would make a range of bespoke jewellery your customers would love, please get in touch with us.