At Mallards we're delighted to announce that we'll be working with the heritage gift shop at Gloucester Cathedral. It's a truly beautiful medieval cathedral, originally Norman but mainly dating from the 14th and 15th centuries, and there is a lot of opportunity to create some truly special souvenirs from its architectural details.
However it's not just the magnificent building itself that inspires us; there are all sorts of details here that have engaged us and got us thinking creatively. Here are a few of the stories and features that have been firing our imaginations…
Royal patronage
The nine-year-old Henry Plantagenet was crowned at Gloucester Cathedral in 1216, becoming Henry III. It's the 800th anniversary of his coronation this year, which the cathedral is marking with a series of events and an exhibition.
In 1327, Henry's grandson Edward II was buried there. A Royal burial was an honour; and the tomb soon became a place of pilgrimage. The resulting funds enabled the east end of the church to be rebuilt in the fashionable Perpendicular style. In the 1350s, the magnificent Great East Window was created.
A starring role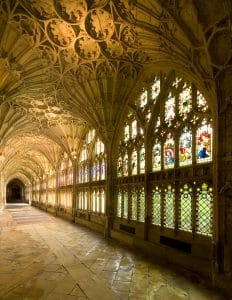 Much more recently, another famous young boy took centre stage at Gloucester Cathedral. The cloisters starred as the corridors in Hogwarts in three of the Harry Potter films, creating the perfect Gothic atmosphere. The portrait of the Fat Lady outside the Gryffindor Common Room hung here, a giant CGI troll rampaged here, and the line "The Chamber of Secrets has been opened was written in (fake) blood on the cloister walls. Harry was standing next to the coffee shop when Snape revealed one of his biggest secrets!
As well as the exciting film connection, the cloisters themselves are beautiful. Dating from the late 14th century, the Great Cloister has some splendid fan vaulting, thought to be the earlier example in England. It was a space for the monks to work and rest, and the twenty niches in the walls would have housed their desks.
The beautiful game
Gloucester Cathedral has a carving showing a game of football, dating from the 14th century, where two players are challenging each other for a ball. This charming wooden carving is from one of the cathedral's marvellous misericords. Misericords are medieval flip-up seats which often feature comical (and occasionally subversive) subjects on the undersides. Gloucester's misericords are full of fabulous hidden stories, and are definitely worth investigating!
Football is the only medieval sport in the cathedral – there's also a stained glass window depicting golf – dating from 1350!
Music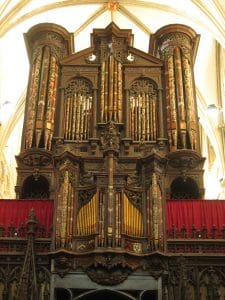 The cathedral's famous organ is 350 years old this year, built in 1666 by Thomas Harris. It is a truly magnificent looking instrument, with rich decoration and carvings – and of course it sounds wonderful, as the programme of recitals can testify.
Music plays a big part in the cathedral's life. Along with Worcester and Hereford, Gloucester is one of three cathedrals that hosts the Three Choirs Festival. Celebrating its 300th birthday last year, this is one of the world's oldest music festivals.
Great Peter
Gloucester Cathedral's bell, Great Peter, is England's only surviving medieval "bourdon bell" ("great bell"). It's 1.7 metres high, and weighs over 3000 kilograms, and took seven men to ring it! It's thought to date from the mid 14th century, and is engraved with the Latin "Me fecit fieri conventus Nomine Petri" and shields showing Gloucester Abbey's arms.
Visitors climbing up the 269 steps in the cathedral's tower can have a break part way up, and see Great Peter in situ in the ringing chamber. However, where most visitors see a magnificent old bell, we see pendants and brooches…! There are lots of fascinating details in this beautiful cathedral that are starting to get us thinking about new items and ranges for the cathedral's gift shop…
The importance of creating the right heritage gift
As ever, the gift shop is an essential fundraiser for a cathedral. The ongoing daily maintenance costs for medieval buildings are eye-watering; and if there are any specific repairs or conservation projects, finding the funding can be an onerous task. Generating revenue through quality merchandise is one of the ways to support the fabric and mission of these incredible places.
However, it's always important that a heritage gift shop has integrity, especially in a religious setting. At Mallards, we understand this, and work closely with the heritage site's team to make sure that we produce items that reflect the spirit and history of the place, as well as appealing to the specific audience.
There are lots of wonderful stories and architectural details in Gloucester Cathedral which are truly inspiring, and we're looking forward to using these to create quality and original heritage gifts for the shop. If you manage a heritage attraction and would like to find out more about our services, please contact us at Mallards.