As we mentioned last month, Mallards has started working with St Ewe Free Range Eggs. A fellow Cornish company, St Ewe produces the most delectable eggs – and the Mallards team has been fans for years!
We've been busy since we last blogged about St Ewe, and we've created a lovely sterling silver pendant. It's egg-shaped (what else?), and is engraved with "St Ewe Free Range Eggs" and the farm's logo. The logo was inspired by the distinctive 14th century church tower and spire of St Ewe's church. Of St Ewe herself, very little is known; however her medieval church spire is elegant and distinctive (and looks wonderful on our pendant).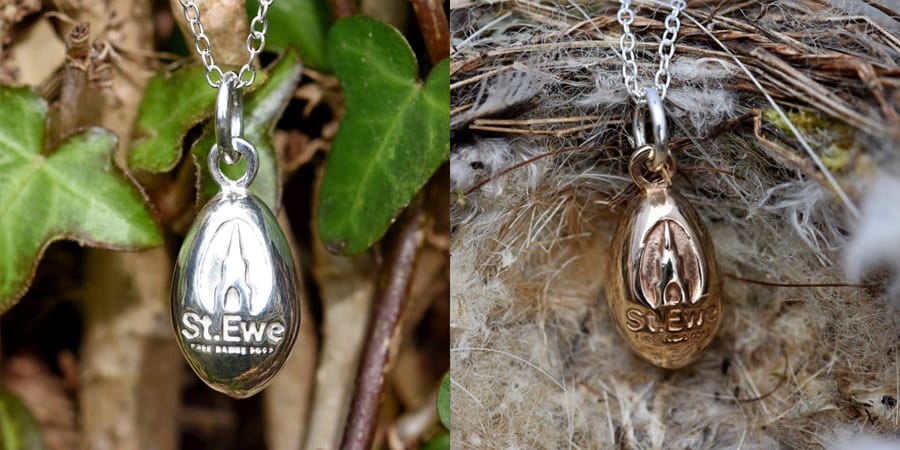 The sterling silver pendant is beautiful worn on a chain. At 12mm x 8mm, it's a delicate little charm, although it's weighty for its size at 5.5 grams.
Of course, we're by no means the first jewellers to make beautiful eggs – the House of Fabergé is best known for its highly-decorated jewelled eggs, originally made for the Russian Tsars. At Mallards, we're toying with the idea of making our own ornate eggs to celebrate Cornwall's finest free-range farm!
St Ewe is based in Ventonwyn Farm near Truro. Their motto is "happy hens make tasty eggs", and their contented chickens roam the beautiful Cornish meadows. Demand became greater than supply for St Ewe's delicious eggs, and they now get some of their eggs from partner farms that share St Ewe's free-range, high-welfare ethos.
We're delighted with the new silver egg! This piece of work shows that Mallards doesn't only work with heritage attractions; we also partner with commercial clients. Whatever your business, we're keen to hear from you; and as there's no minimum order, it's simple to test a new product. To find out how we can work together, please get in touch with us