Mallards has been working closely with Westminster Abbey's gift shop for a few years now, and we've created some beautiful jewellery together. For us, the most inspirational area in this incredible church is Henry VII's Lady Chapel in Westminster Abbey, which has a wealth of rich architectural detail.
There are stories behind the beautiful carvings in Henry VII's chapel. A master of late medieval PR, Henry knew the importance of heraldry, and made great use of symbolism to advance the Tudor cause. Here's the history behind our Lady Chapel-inspired jewellery.
Henry VII and the Lady Chapel
Henry VII commissioned the Lady Chapel in 1503. It was to become the site of Tudor burials, including Henry's mother Margaret Beaufort, his wife Elizabeth of York, and Henry himself. Henry died in 1509 and didn't live to see the chapel's consecration in 1516.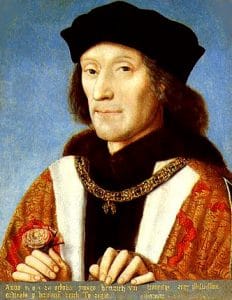 The Lady Chapel is simply beautiful, renowned for its spectacular fan-vaulted ceiling. However the details woven into the architecture had far more significance than decoration: the chapel is full of carefully-placed symbols intended to support the status of the new Tudor dynasty.
As the first Tudor king, Henry had to establish the validity of his claim to the throne. When he defeated Richard III at the Battle of Bosworth, it marked the end of over three centuries of Plantagenet rule. The Tudors did not want to appear usurpers, so set about drawing on older Lancastrian heraldry to emphasise their legitimacy.
Early on in his reign, Henry made a politically astute marriage to Elizabeth of York, daughter of Edward IV and niece of Richard III, intended to bring the rival royal houses together (at least publically). This resulted in one of England's most recognisable royal symbols, the Tudor Rose.
The Tudor Rose
The House of York, the Plantagenet royal family, used a white rose emblem. The House of Lancaster, from which the Tudors were descended, had a red rose emblem among their badges (although in practise, they'd rarely used it, up until now).
Realising the potential of these two similar symbols, Henry created the Tudor Rose by combining his new wife's white rose with his little-used – but suddenly significant – red rose. The resulting two-coloured Tudor Rose became one of our most-loved emblems – and speaking as jewellers, it's a wonderful design to work with.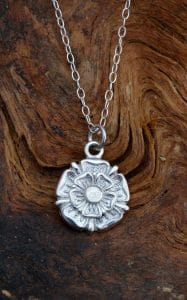 The Tudor Rose design is repeated across the Lady Chapel. Like Henry VII's masons who carved it so many times, we had to make sure that the shape of our silver Tudor Rose pendant was clearly defined, and recognisable without its distinctive red and white petals.
The Portcullis
The portcullis was an emblem of the House of Beaufort, descendants of John of Gaunt who was one of Edward III's sons. Henry VII's mother was a Beaufort, and using her Plantagenet heritage emphasised his royal lineage.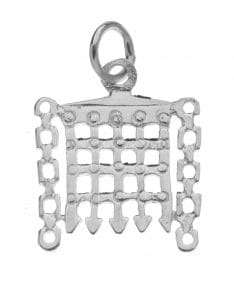 The portcullis was a vertically-closing gate at the entrance to a fortified building. Made from latticed wood or metal, the portcullis could be raised or lowered rapidly using its winched chains. Representing strength and security, it's a powerful symbol to use as an emblem. Like the Tudor Rose, Henry used the portcullis symbol in the architectural details of his chapel. Three centuries later, the portcullis was adopted by architect Sir Charles Barry when he rebuilt the Palace of Westminster. From this, it became the symbol of Parliament.
Our challenge when creating the silver portcullis pendant for Westminster Abbey was getting the detail right in such a small size. The latticed gate has the accurate 20 rivets, and the chains on either side hang straight. The end result is an elegant pendant which is as accurate as possible for its miniscule scale.
The Fleur de Lis
Meaning "Lily Flower", the fleur-de-lis was usually associated with the French monarchy. However, Henry VII's Plantagenet ancestor, Edward III, believed he had a just claim to the French throne – so he added the fleur-de-lis to the English royal arms in 1340! Henry VII was one of many English monarchs to use this version of the royal blazon.
Again, Henry VII looked to his royal ancestry, and devised a coat of arms for himself that was very similar to Edward III's. He also made good use of the fleur-de-lis emblem, and it forms the third of our trio of significant symbols in his Lady Chapel.
It's a beautiful design: simple and elegant, perfect for bespoke jewellery. We made a range of fleur-de-lis jewellery for Westminster Abbey's shop, including these delicate fleur-de-lis earrings.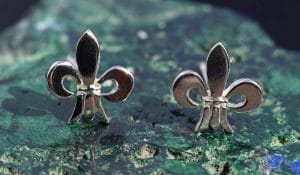 The Lady Chapel is one of the most architecturally inspiring places we know, and there are so many gorgeous little details there that make wonderful bespoke heritage jewellery. It's hard to imagine that such delicate artwork is essentially a tale of late medieval power and politics…
If you have a heritage site with interesting stories to tell, please get in touch with us at Mallards. We can work with you to create some unique items that bring these tales to life in your gift shop.