Recently, Mallards was presented with a great challenge – turning one of London's most iconic landmarks, Big Ben's clock face, into a bespoke pocket watch. We were approached by the Houses of Parliament shop to create bespoke chrome and gold-plated pocket watches based on the famous dial of the Elizabeth Tower clock.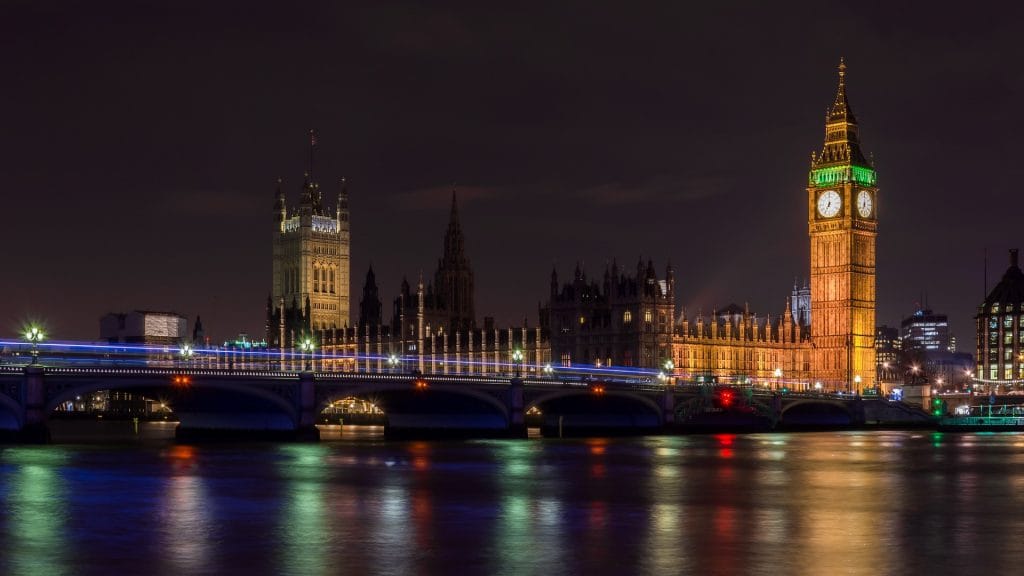 It's one of London's most recognisable landmarks. The north tower of the Palace of Westminster is home to "Big Ben", the nickname of the great bell, and often used to refer to the country's best-loved clock. Until it was renamed the Elizabeth Tower to celebrate the Queen's Diamond Jubilee in 2012, the tower was actually called "The Clock Tower".
The clock was commissioned in 1859, and has hardly missed a tick since. Next year, a 3-year, £29m repair programme begins – and the clock mechanism will have to be stopped for a few months. As well as mechanical maintenance, parliament's team of conservation architects will be trying to uncover the clock's original paint scheme, as designed by architect Augustus Pugin.
The clock's' vital statistics are impressive. The four dials are seven metres in diameter, with 4.2m minute hands, and 2.7m hour hands. The Roman numerals are 60cm long (and unusually, the "4" is represented by IV, rather than the more conventional IIII of other clocks). Each dial has 312 pieces of separate pot opal glass, giving them their distinctive stained glass window appearance.
And that was our challenge – creating a pocket-sized version of these mighty dials.
So – how do you go about turning an icon into a bespoke pocket watch? Here's what we did…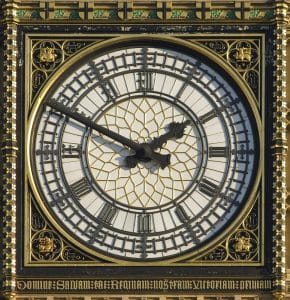 The team at the House of Commons, with whom we'd already designed several items of jewellery, sent us this clear photograph of the west clock dial.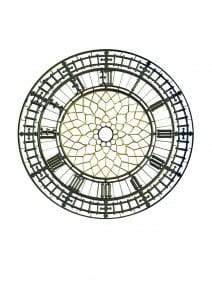 From this, we worked on Photoshop to strip out the detail we didn't need, and to start to focus on the elements we'd keep.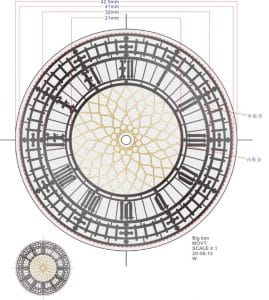 At the workshops, they worked further on the graphic design, adding measurements, and creating an image they could work from.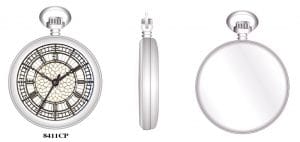 Using a CAD program enabled us to see what the final design would look like, including the polished case.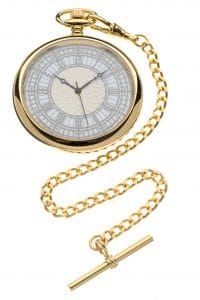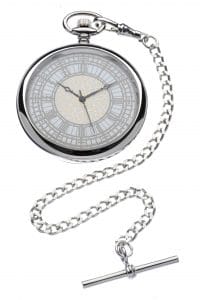 The final watches. Icons in miniature, they have captured in detail the dial of the famous landmark.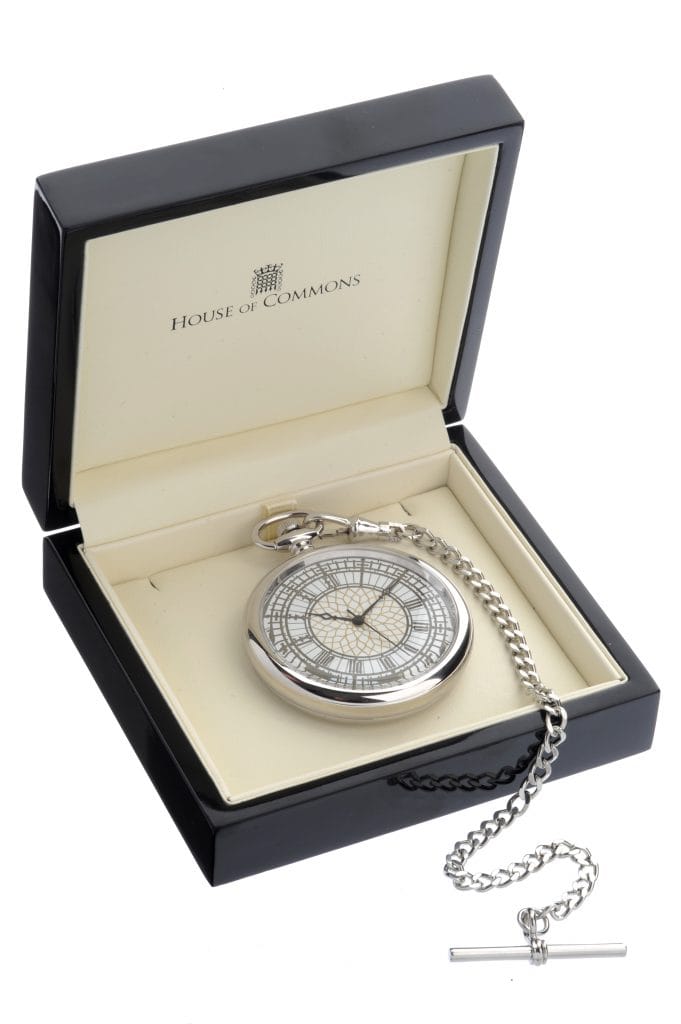 Ready for display. The watches are presented in black lacquered wooden gift boxes with the House of Commons' logo, which we also supply. A unique souvenir of a British icon, designed and made in Britain.
Our client was very pleased with the finished product, and to be honest, so were we! It's not easy capturing such a well-known landmark, especially such a detailed one! By breaking the photograph down into a simple design, we were able to create a faithful, bespoke pocket watch that captures the essence of the original. The watches are available in the Houses of Parliament shop – click here to see them.
If you'd like to find out more about our design process, or if you have your own icon you'd like turned into a piece of jewellery, please get in touch. We'd be delighted to help you realise your idea.