This is a lovely watch from the Mallards' archive. 2009 marked the 125th anniversary of the Prime Meridian at Greenwich, and Douglas celebrated this by designing a new pocket watch. A beautiful gold-plated timepiece, it remains one of our favourite watches. Here's a bit more about the watch and the story behind it…
On 1 October 1884, representatives from across the world arrived for a month-long conference in Washington DC. The reason for this gathering? To "fix a prime meridian and a universal day". By the end of the month, a set of protocols had been agreed; and among these was the establishment of Greenwich in London as the prime meridian for maps, and Greenwich Mean Time as the basis for a universal time system.
Greenwich had been selected because it was already well on the way to becoming the default meridian for most of the world's ships. A meridian is simply a line of longitude, and the prime meridian is where longitude is defined as 0°, essential as a navigational reference point. Sir George Airy established a prime meridian at the Royal Observatory in Greenwich in 1851, and by the time of the conference, over two thirds of global shipping were using it. The conference formalised this , as well as establishing "GMT" as the mean solar time; in other words, the standard time regardless of where you were in the world.
The design of our 125 year anniversary watch was inspired by the "sea clocks" of eighteenth-century clockmaker John Harrison, who invented the marine chronometer. The watch is housed in a polished gold-plated double hunter case (it opens front and back, a handy style if you want to stand the watch upright to use as a clock). It has a skeleton dial, which allows you to see the quality 17 jewel mechanism inside, which is also gold plated.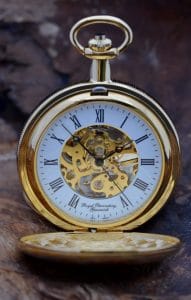 The dial is classic white with slimline black Roman numerals, elegant Breguet hands, and a seconds hand. The pocket watch is made exclusively for the Royal Observatory Greenwich, whose name is inscribed at the six o'clock position. When you open the rear case, again you can see the fascinating mechanism, as well as the watch's unique engraved inscription: 125 years of the Prime Meridian in Greenwich. It is sold with a matching gold plated Albert chain.
The watch is available exclusively from the shop at the Royal Observatory Greenwich. If you have an event or historic anniversary approaching, and would like to commemorate it with an original gift, please contact us at Mallards.