Sometimes, we come across an architectural detail on an historic building that just works perfectly as a modern piece of jewellery. Earlier this year, we worked with the shop  at Westminster Abbey  to design and make a wrist watch, based on the clock dial on one of Hawksmoor's west towers.
The west towers of Westminster Abbey remained unfinished for centuries. During all those signal events – Tudor and Stuart coronations, burials and marriages of monarchs and national heroes – the west front had a most curious, lopsided appearance. It was Sir Christopher Wren in the early 18th century who decided firmly that this must be changed. The Dean and Chapter agreed; however Wren died before his plans could progress. His successor and former clerk, Nicholas Hawksmoor, took over the project.
Farmer's son Nicholas started as Wren's personal clerk and progressed to being his deputy surveyor. In 1723 he became Surveyor of the Fabric at Westminster Abbey. Hawksmoor designed the upper sections of the west towers; however he also died before they could be completed, leaving the finishing touches to his successor as Surveyor, John James. Made from gleaming Portland stone, the graceful towers are now one of the most distinctive features of the West London skyline.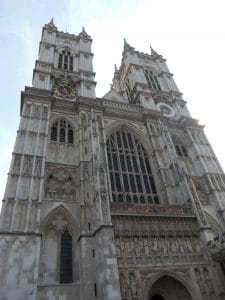 It's the north west tower that gave us the inspiration for our new wrist watch, as it's home to the Abbey's Georgian clock. The clock was made and fitted by John Seddon in 1738, seven years before the towers themselves were completed, but sadly, two years after Hawksmoor's death. Each of the three dials has only one hand, which wasn't remarkable in the 18th century, when accurate timekeeping wasn't as essential as it is today – indeed, many domestic clocks had just a single hour hand. When the clock was refurbished in 1861, the movement was replaced but they stayed with the single hand – after all, the "Big Ben" clock had been installed by then, and perhaps two accurate clocks was considered an extravagance!
The dials themselves are beautiful. They are black, with contrasting gilded Roman numerals and a delicate floral pattern. The single hand is also gilt-tipped. This elegant design translates extremely well into a wearable, contemporary wrist watch dial, and we were delighted when Westminster Abbey asked us to create this for their shop .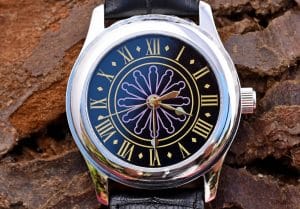 We always like to create faithful replicas whenever possible; however we felt that the Abbey shop's customers wouldn't appreciate the single hand! We added a minute hand and a second hand to make sure it's an accurate watch as well as an accurate representation of the clock. However, thanks to its gorgeous design, we didn't need to make any changes to the style of the dial. The Roman numerals are slim in shape and very clear, and the central floral design subtly adds interest without losing any legibility.
We added a simple black leather strap and a stainless steel case. However, the caseback reveals a secret that only the wearer is aware of… The caseback is partially glazed and shows the 17 jewel mechanism that powers the watch. Around this is engraved "Westminster Abbey Designed by Nicholas Hawksmoor", in homage to the architect who created those divinely-soaring towers.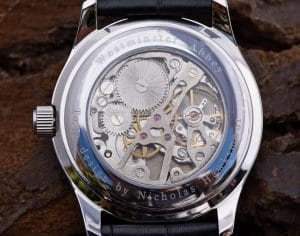 This really is one of those pieces that captures the essence of a great building. If you have an architectural feature or iconic symbol that you would like to share with your customers, please contact us . We specialise in taking designs and details from attractions and historic sites, and turning them into wearable jewellery with great appeal to visitors