As well as working with the heritage sector, we also create bespoke jewellery for commercial clients. We were approached by Plymouth-based Princess Yachts who wanted a lapel pin based on their distinctive crown logo.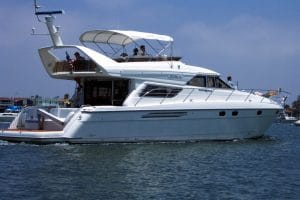 Princess Yachts produce some of the most elegant and innovative luxury crafts on the market. They fitted out their first boat over 50 years ago, and continue to build their stunning yachts in their shipyards in Plymouth.
There are few places that can rival Plymouth's boat building heritage, and the city is home to some of the most skilled maritime craftsmen. Crafting a luxury yacht requires a large team with the right mix of talents and experience. From the three men that fitted out that first boat back in 1965, Princess Yachts now employs over 2000 people.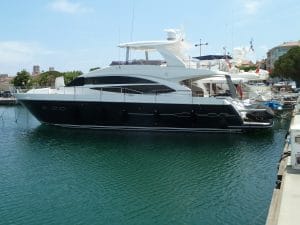 Combining marine engineering expertise with meticulous attention to every high-end detail, these are the finest of boats. It's not surprising that Princess Yachts has such an enviable global reputation for quality.
In terms of lifestyle brands, they don't come much higher-end than the luxury yacht producers. So naturally when Princess Yachts wanted a lapel pin for their customers, every detail had to be just right.
Their crown logo is a lovely image to work with: it's simple and elegant, and works perfectly as a discreet lapel pin. We crafted the lapel pin from sterling silver, and because we like making sure that every aspect of what we produce is high quality too, the butterfly clutch pin back is also made from sterling silver. No plastic pin backs here!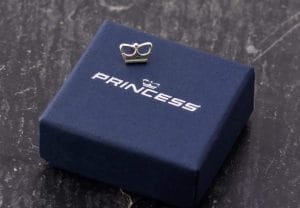 Princess' customers expect every detail to be right, so we made sure that the lapel pin box was flawless too. They sent us information about their company pantones to make sure that we used exactly the right shade of blue, and the resulting bespoke boxes look extremely handsome and in-keeping with Princess' style.
The name and logo were added to the boxes in pale silver, which looks wonderful against the rich purple-blue. The end product for Princess Yachts was a complete package of silver lapel pin and bespoke display box.
Because, like Princess, we appreciate the importance of getting the details right. When a company has such a reputation for high-end quality, it's essential that anything produced for them reflects this ethos. By creating a complete package of bespoke lapel pin and gift box for Princess Yachts, we helped to support their brand values of beauty underpinned by superior quality. Handing a lapel pin over in a self-seal plastic bag would be unthinkable!
If you have a logo or other company image that you think your customers would appreciate as a lapel bin or badge, please get in touch. We specialise in creating bespoke jewellery for the commercial and heritage sectors, with everything designed and made in the UK. If like Princess Yachts, you feel a complete package of item and bespoke box would please your clients, just let us know.