One of our latest designs for the shop at Westminster Abbey has a real Royal pedigree: it's inspired by the design on a dress worn by Elizabeth I.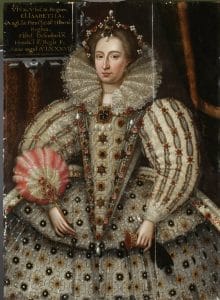 The stunning "Sun in Splendour" jewel features on a portrait of the Tudor queen that hangs in the Dean of the Abbey's residence. Dated 1595, it shows Elizabeth splendidly dressed in a white and gold bejewelled stomacher and skirt, holding a fan and a glove. The gorgeous jewels on the dress captured our imaginations, especially the sun…
The sun with its associations of power and life-giving energy became a popular Royal motif in the Middle Ages. Edward III had a sunburst as one of his several badges. This shows the sun's rays shining out from a cloud. His son Richard II also had a clouded sun, and adopted the "sun in splendour". The "Sun in Splendour" or "Sun in his Glory" typically consists of a central circle with a human face, and 12 or 16 rays, which often alternate between straight and wavy.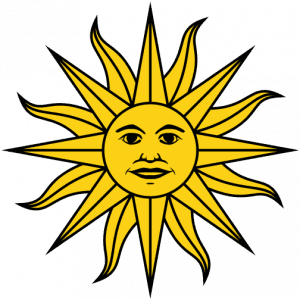 Lancastrian Henry VII (who defeated Richard to become king) kept the sun in splendour as one of his 15 royal badges; however this device became better known as an emblem of the House of York, especially favoured by Richard III.
The early Tudor monarchs didn't bother much with the sun emblem; however Edward VI, the third Tudor monarch, used it occasionally. It wasn't adopted by his sisters, Mary and Elizabeth, so its prominent appearance on her dress here isn't usual. However, it was common for monarchs to borrow badges from their predecessors to emphasise the legitimacy of their claims to the throne; so maybe Elizabeth was trying to appeal to former Lancastrian or Yorkist supporters with this portrait? Of course, it could simply be that, like us, she loved the strong shape and bright copper colours of this vibrant emblem!
Working with Westminster Abbey's shop, we created two different pendants and a pair of earrings based on the sun design. We made a pendant in sterling silver, which gives an elegant, contemporary result; and to capture the warm rays of the sun in splendour, we also made a version in bronze. In the centre of the jewel, the blue glass replicates the design of the original jewel. We're delighted with the results (and we're sure that Elizabeth, a great wearer of jewellery, would have approved!).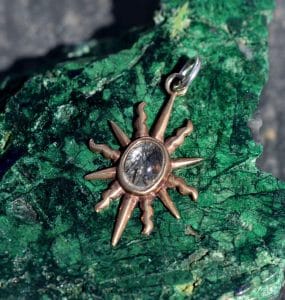 If you work in an historic place with stories to tell, please let us know. At Mallards we specialise in taking details, even ones as small as the pattern on a dress in a portrait, and turning them into bespoke pieces of jewellery that your customers will love. To find out how we can create beautiful and original items for your shop, please get in touch with us.