A lot of the bespoke heritage jewellery that we make is designed for women to wear: pendants, charms, and earrings. Therefore, we're always pleased when we're asked to create an item of jewellery for the chaps. Westminster Abbey shop asked us to make them some sterling silver cufflinks, based on the cross that forms part of the Abbey's coat of arms.
In these days of buttons, why are cufflinks still so popular? They've recently enjoyed a resurgence along with other traditional forms of men's dress such as waistcoats and pocket watches. Until the late 18th century, most shirt sleeves ended with frills and were tied with ribbons. Men's dress became more practical during the 19th century, and the highly starched cuffs of the Victorian gent were too rigid to be fastened by button. The cufflink, which had been around on-and-off for a couple of centuries, finally came into its own.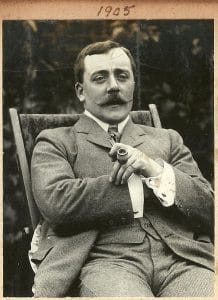 By the Edwardian period, cufflinks were available in all colours and motifs, probably because they were one of the few ways fashion-conscious gents could accessorise. However, during the 20th century, French cuffs (the type that required cufflink fastening) declined, and it's only fairly recently that they've come back into fashion.
We're delighted that men are wearing these attractive accessories again, and we're being asked more often to create bespoke cufflinks for our customers. Westminster Abbey's shop suggested that we design and make a pair of cufflinks based on St Edward's Cross, an important emblem for the Abbey and which was named for the church's founder, Edward the Confessor.
St Edward the Confessor was an Anglo Saxon king. He's termed "confessor" instead of "martyr" because he showed courage for his faith but didn't die for it. He founded Westminster Abbey; and although his original church was demolished in 1245, his body was translated to the present Abbey in 1269.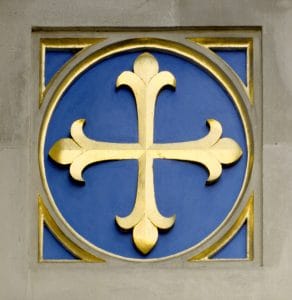 The Saxons didn't have coats of arms, so King Edward had one "attributed" by later heralds, a gold cross patonce and five small birds ("marlets"). The word "patonce" probably derives from the French "patte", which means paw. If you look at the limbs of the cross, you'll see why! This coat of arms forms part of Westminster Abbey's coat of arms, and it's this that inspired the design of our St Edward's cross cufflinks.
The cufflinks are made from sterling silver, and have a simple bullet back fastening. The elegant shape of the cross adds a discreet bit of detail to the cuff: interesting, but not too quirky. The polished finish gleams gorgeously against a darker sleeve. Silver cufflinks are traditionally worn with evening wear; however, these are subtle enough to be worn with any outfit.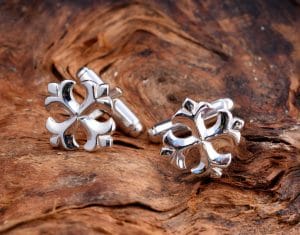 We're really pleased with how well the design has turned out; and we've made other sterling silver St Edward's cross items for Westminster Abbey's shop. Maybe the cross pendant or earrings would make a lovely "his and hers" gift set?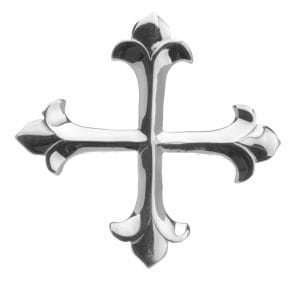 Don't overlook gents' accessories when you're thinking about your bespoke heritage gifts. All too often, the higher-end section of a gift shop is biased towards female jewellery; and a pair of unusual, high-quality cufflinks is a really appealing item. If you have an emblem or other design that you think would suit a pair of cufflinks, or would like to discuss bespoke heritage jewellery in general, please get in touch with us at Mallards.